The automotive industry is well-known for using commissions as a means to pay sales representatives. While sales reps do usually receive a base salary, commissions and other incentive pay contribute significantly to their paycheck. 
Depending on a car sales rep's level of education, any certifications they may possess, or number of years in the industry, a base salary for car sales reps can range from $38,802 to $54,827 according to Salary.com. On top of their base salary, sales reps make an average of $29,156 in additional earnings from commissions and other incentive pay.
Commission Structure for Car Sales Reps
The commission structure for car sales representatives is generally based on either frontend sales or backend sales. Additionally, some dealerships may opt to include a tiered commission structure to reward sales reps for achieving sales quotas. These compensation structures are outlined below. 
Frontend Commissions: Commissions calculated based on a percentage of the profit made from each car sale is known as a frontend commission. The commission rate can vary among dealerships or even the type of car being sold, but the average rate for frontend commissions is 20-40%.
Backend Commissions: When customers purchase any add-ons to the vehicle, such as car accessories, body molding, entertainment systems, or any insurance or warranties, these are considered backend commissions. These commissions are usually around 5%.
Sliding Scale or Tiered Commissions: Due to the volume of sales made in the car industry, tiered rates are often utilized as a way to reward high-performing individuals. The tiered structure is built around certain sales milestones that reps must reach in order to receive a higher commission rate. This structure provides consistent motivation for top performers to keep selling more.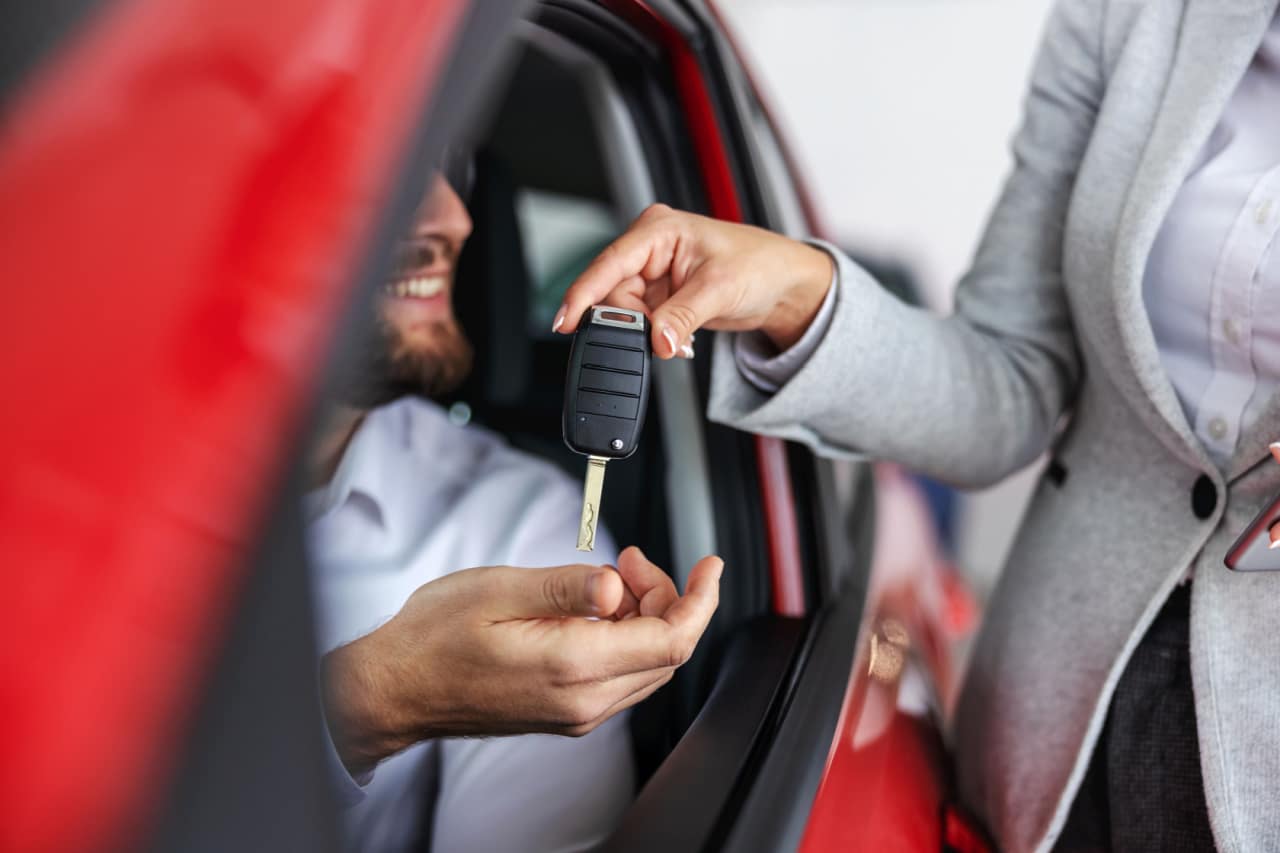 Bonus Pay Structure for Car Sales Reps
In addition to commissions, bonuses are another common form of incentive pay that car sales reps can earn. Bonuses are frequently used to incentivize sales reps to meet specific sales goals or reward them for closing certain deals. In fact, sales reps may make more money from bonuses than actual commission payments. Below are some of the most common ways car sales reps can receive bonuses.
Selling Old Inventory: For dealerships to be successful, it is important that they have consistent turnover with all vehicles on their lot. The older a vehicle becomes, the more difficult it is to sell and the more costly it becomes to the dealership to keep it. To help facilitate the sale of older vehicles, dealerships may provide a bonus to sales reps that are able to sell specific older vehicles on the lot that could be taking up space. These bonuses range from $50-$150 for each car specified.
Manufacturer Bonuses: Aside from the bonuses paid from the dealership, some sales reps may be eligible to receive incentive pay directly from the manufacturer. Often, sales reps will need to become 'certified' or 'registered' by the manufacturer in order to receive these specialty incentives. However, by doing so, sales reps can unlock the potential to receive a bonus from the manufacturer for each new car sold.
Most Cars Sold in the Month: Most car dealerships will also have running sales contests that reward the sales rep who is able to sell the most cars in a month. The sales rep who wins the contest can receive a bonus amount anywhere between $100-$400.
Tiered Bonuses: In some cases, dealerships will utilize a tiered bonus structure. This operates very similarly to tiered commissions, but instead of a commission rate, it's a flat amount and is only based on the sales made each month. Not unlike tiered commissions, the bonus amount increases with each sales milestone the sales rep achieves.
Miscellaneous Bonuses and Spiffs: Because bonuses are so common in the automotive industry, they can be a greater source for motivation among sales reps than commissions, and as such, car dealers can implement bonuses for a variety of reasons. In addition to the bonuses described above, dealers can offer one-off bonuses or spiffs for car sales made on holidays, bonuses for most cars sold on a Saturday, or by selling certain accessory packages. 
Other Variables
Minis: As mentioned above, dealerships require consistent turnover of their inventory. Cars that remain on their lot for an extended period of time can affect a dealership's bottom line. In order to make a quick sale of these vehicles, they may sell them at a loss or may sustain a severely decreased profit margin on the sale. These sales are referred to as minis and instead of receiving their standard commission rate, sales reps earn a reduced commission amount. On average minis can earn sales reps a flat payment of $50-$200.
Pack Fees: Pack fees are maintenance fees that include lot attendant wages, lot maintenance, paperwork, cleaning costs, refueling costs, etc. These fees are taken into account when calculating the commission pay for a sales rep. The overall commission for a rep will be calculated on the profit margin less any maintenance or pack fees.
Incentive Pay Made Simple for Automotive Sales
In an industry like car sales where incentives make up such a big part of a sales reps pay, it can be difficult to manage the various commission calculation methods and other incentive pay structures. Core Commissions has all of the tools needed to accurately calculate and manage your sales reps' pay, including a web-based portal for sales reps to easily view the details of their incentive pay in real-time.
Additionally, Core's comprehensive reporting system is capable of modeling revenue and sales performance trends to provide you a comprehensive and accurate look at any data pertaining to your business operations.
Contact us or set up a free demo and we'll show you how Core can automate the entire compensation process for your dealership.